Worley Sound

Press Release

—

Keeping it clean: d&b SL-Series out on the latest arena tour with Tame Impala

ASHEVILLE, NC (1.21.22)—Australian psych rockers Tame Impala have hit the road on the "Slow Rush Tour" picking up where things left off before the pandemic and playing throughout the US and Mexico.

A band known for their incredible live shows and pursuing the best sonic experience for the listeners, Adam Round, Tame Impala's FOH engineer, selected the d&b GSL and KSL-Series.

"With a variety of challenging arenas and amphitheaters, the cardioid SL-Series does such an awesome job of eliminating unwanted noise at the rear of the loudspeakers," states Round. "This directivity gives us much more clarity in these large reflective spaces. It also allows us to process things in ways we couldn't before because the volume back on stage is now greatly reduced. The d&b SL-Series is a truly remarkable sounding system and has a huge amount of horsepower. Whenever the band hit some of those low notes it really shows off what the SL-SUBs are capable of."

Tom Worley of Worley Sound, owner and director of the Nashville based sound company, has partnered with Solotech Nashville to provide a d&b audiotechnik GSL and KSL-Series loudspeakers for the current Tame Impala Tour. "The tour schedule is predominantly made up of large hockey arenas with a few large amphitheaters, so we needed the horsepower of the GSL as the main hang but felt the flexibility and efficiency of the KSL was better suited to cover the sides of the arenas." states Worley.

The SL-Series is the flagship loudspeaker system for d&b which is engineered to provide precise broadband directivity control across the entire bandwidth, delivering quiet stages for the performers, maximum art for the audience, and minimal noise for those beyond.

"With d&b's ArrayCalc simulation software coupled with ArrayProcessing we have achieved improved uniformity throughout the venues," says Worley. ArrayProcessing is a unique d&b technology which optimizes the performance of a d&b line array to deliver consistent tonality and level balance throughout the entire vertical coverage area of the line array. "Worley system engineer Justin Lenards has a great understanding of ArrayProcessing and together with Adam, they are achieving great results in some challenging environments."

The main hangs consist of 14 x GSL8 over 4 x GSL12 per side, 12 x KSL8 over 4 x KSL12 per side for side hangs, 16 x SL-SUBs, 8 x Y10p and 4 x V12 loudspeakers are used for fills, 48 x D80 amplifiers and a DS10 drive the system all controlled by R1 Remote Control software. "The sub array is setup as 8 stacks of 2 x SL-SUBs spaced at 8′ centers, says Lenards. This allows us to have greater control of the sub array while still providing maximum impact throughout the arena. The Y10Ps for front fills are centered on each sub stack, elevated on a small riser which is the perfect height for the listener without creating any site line issues. We are using the V12's just in case the audience extends the main coverage."

Worley Sound is providing a DiGiCo Quantum 7, used by Adam Round at front of house and a DiGiCo Quantum 5 handling the band's on-stage requirements, mixed by Rafael Lazzaro.

Worley Sound Carries L-Acoustics K Series On alt-J's "The Dream Tour"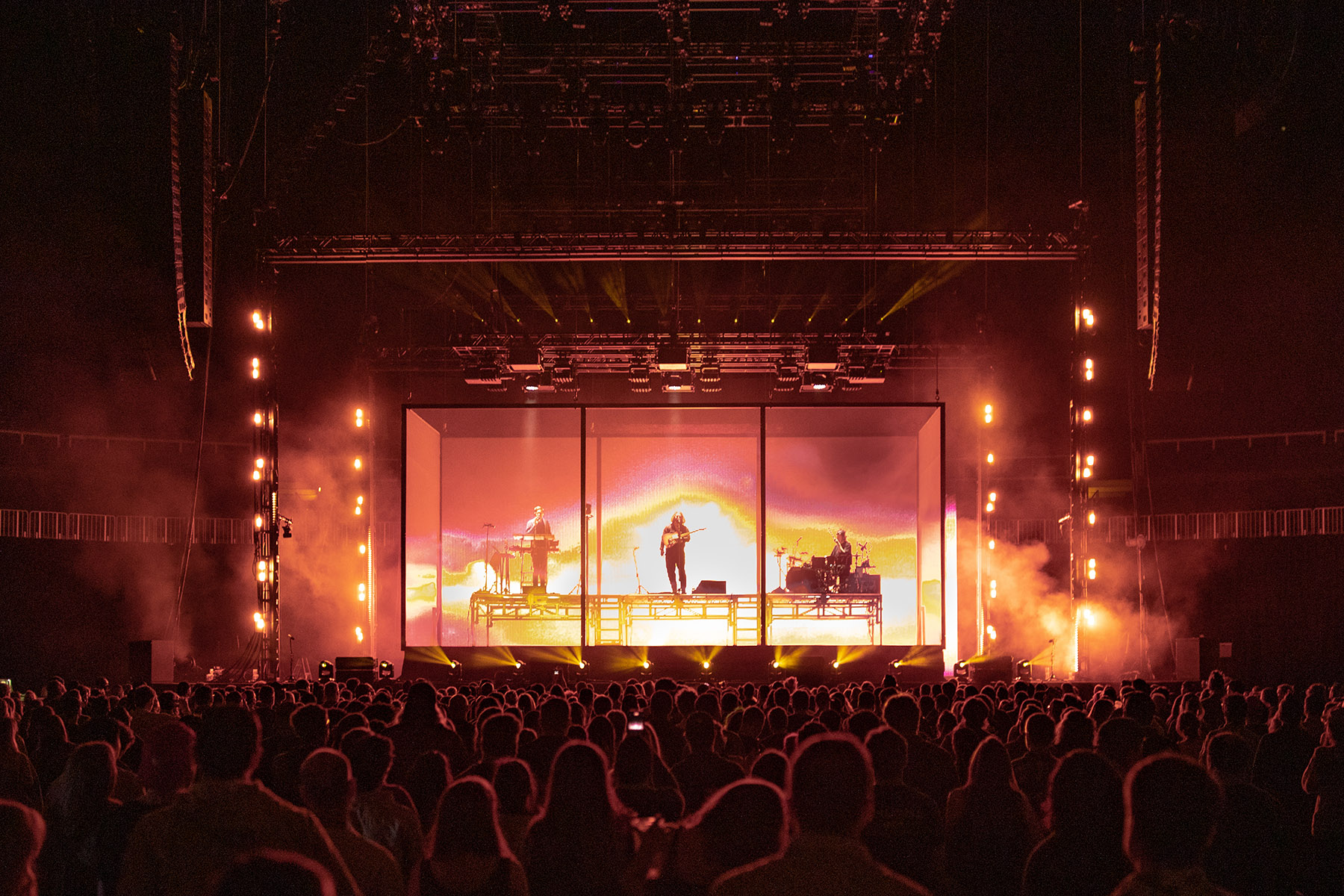 North American trek flies K Series arrays in a wide variety of room geometries, from clubs, theaters, and arenas to larger venues like Crypto.com Arena and Madison Square Garden

NASHVILLE, Tennessee – May 2022 – Having released their fourth studio album, The Dream, in February of this year, Brit indie rock trio alt-J recently wrapped up a two-month tour of North America and are now back on their home soil for four weeks of UK tour dates throughout May.

Worley Sound, a new sound reinforcement provider based in Nashville, serves as the band's audio gear supplier for The Dream Tour and carries an L-Acoustics K Series loudspeaker package for alt-J's full 2022 worldwide trek.

"I spent four years as a systems engineer, monitor tech, and crew chief in the UK, followed by another eight years as an account and operations manager in the US, but then Covid struck and, like many others in this industry, my job disappeared," recalls Worley Sound Owner and Director Tom Worley. "After heading back home to New Zealand to rethink my career, I decided to establish a new touring sound company and have centralized headquarters in Nashville."

Although alt-J is a new Worley Sound client, Worley himself previously served as the systems engineer for previous tours supporting the band's second and third albums, 2014's This Is All Yours and 2017's Relaxer, both of which carried L-Acoustics loudspeaker packages. These days, the role of systems engineer is handled by Worley Sound's Benny Masterton, who is responsible for measuring each room, then designing, flying, and tuning the PA for every show.

The largest and most common system deployment for the North American tour leg included a dozen L-Acoustics K1 enclosures flown over four K2 for both the left and right mains, each backed by a hang of eight KS28 subs. Out-fill coverage was provided by additional arrays of 12 K2 over three Kara per side, with eight Kara and four ARCS II down on stage level supplying front-fill. Low-frequency impact was bolstered by four additional ground-based KS28 spread out across the face of the stage. All enclosures were driven by LA12X amplified controllers, while two P1 processors located at the FOH mix position supplied main and redundant networking via Milan-AVB. Both the full FOH and monitor control packages, which included an Avid S6L-24D and DiGiCo Quantum225 respectively, were supplied by Worley Sound, while the K Series system was dry-hired from Solotech, an L-Acoustics Certified Provider for rental (CPr).

According to Masterton, the L-Acoustics rig has been a pleasure to deploy for numerous reasons: "We're hitting quite the range of spaces on this tour, both in terms of venue size and layout, but I feel that L-Acoustics scalability is second to none," he says. "With a fluid combination of K1 and K2, I find that I can really dial in the PA to achieve a consistent tonal balance and relative SPL with varied room sizes, maximum trim heights, and weight available in the roof.

"I'm also really enjoying having all but four of our KS28 subs flown, which lets us squeeze a lot of low end into theaters, amphitheaters, and other venues where ground-stacking 20 subs would simply be out of the question. This sub deployment gives significant and much-needed weight to the guests being covered by the top boxes of the K1/K2 arrays and is most noticeable in the coverage of the K2 side hangs, including all the way around to the 180 line—something impossible to achieve with subs only on the ground."

To quickly and efficiently configure the system for each show, Masterton leans heavily on Soundvision's Autosolver tools. "I use the Autosolvers religiously and find them very accurate," he shares. "I wholeheartedly believe they allow me to produce a better end result, particularly in the FIR filters with Autofilter. Gone are the days of knocking back the HF amp channels on the bottom couple of circuits. Now it's scientific, accurate, and magical in the far-field!

"Autosplay, specifically in 2D source mode, saves me a significant amount of time when scaling the PA and trying different options as it instantly gives me a representation of coverage and tonality. Seeing a real-time representation of SPL in the far-field and low/low-mid response is crucial to deciding hang length and angles—all of which previously took some serious button clicking."

Chicago-based FOH Engineer Lance Reynolds has been running alt-J's mix for the past decade, as has Monitor Engineer John Dodkin. Reynolds was primarily responsible for moving the band over to L-Acoustics in 2015, following a solid experience with the loudspeaker brand at Coachella, and there's been no turning back since then. "There are a lot of quality speakers available, but in my opinion, L-Acoustics systems simply sound the best," he says. "They always deliver a realism and depth of sound that is very hi-fidelity, with an almost 3D-like quality that you can't really measure with a test mic or measurement system. It's always very pleasing, and I rarely feel like I have to 'muscle' my way through a mix when using them."

Performing in arenas for most shows on this tour, the combination of K1/K2 with flown KS28 subs was "just the right way to go," he adds. "There are a few songs with enormous bass parts, and this PA delivers every time. We used existing house systems on a few of the dates instead of flying our own rig, but I always find that I'm working harder to create a decent mix on other systems. With K1, I don't make nearly as many changes to my system EQ and other elements."

Masterton points out that one of the secrets to the tour's sonic success lies in the L-Acoustics P1 processor. "P1 is a crucial bit of kit as far as I'm concerned," he says. "I use them for everything—console mixing, noise generation, tuning music playback, and, most importantly, running AVB and analog outputs to the PA. When I take them into venues with pre-existing house rigs, their bussing system seamlessly integrates with any format and combination of systems I've come across so far. I use the P1 to tune and time-align as a standalone system so Lance can have full control of his console and do as he likes while I'm tuning. It's an absolute gig saver when the bus breaks down and we turn up late," he laughs.

Another serious perk of P1 is the M1 measurement tool suite used in conjunction with Network Manager monitoring and control software. "As M1 works by using sweeps and multiple mic positions, it's the ultimate tool for averaging my data collection. And the best part is that once I've done the sweeps, I can tune with the PA off—or even with background music on. This has been great for those days when we're running behind and keeping us on the good side with other departments should they require a bit of quiet while I can still crack on!"

Reynolds has witnessed much during his tenure with alt-J, which stretches back to the band's earliest international trek. "I've been with them since their first North American tour in 2012 and had the fortune of being in NYC when the announcement came that they had won the Mercury Prize," he says. "Those were fun times and very exciting! Back then, it was a 'bare bones' trip across America with the band, a guitar tech, and me in a Sprinter van and cheap hotels. A lot has changed since then, especially having this dream PA that we now get to tour with. L-Acoustics has been fantastic to work with, and we're looking forward to once again giving audiences exceptional concert experiences at every stop of this year's campaign."

Featuring opening act Portugal. The Man, plus special guests Sir Chloe and Cherry Glazerr, The Dream Tour's US/Canada leg kicked off on February 25th in Pittsburgh and wrapped up its 36th show on Easter Sunday in Toronto. Following a May run in the UK and various festival dates throughout the summer, alt-J will head to Australia and New Zealand in September, then move on to Europe for a November leg.
DiGiCo Quantum338 Pair Keeps Tash Sultana Grounded on North American Terra Firma Tour
Worley Sound supplies FOH and monitor control for the artist's first US/Canada trek in three years

NASHVILLE, Tennessee – July 2022 – Australian singer, songwriter, multi-instrumentalist, and producer Tash Sultana is back out on tour for the first time in three years supporting their sophomore 2021 release, Terra Firma.

Following an initial 15-date jaunt across Europe and the UK in March and April, Sultana has just now completed a 32-show North American trek, which kicked off on June 10 in Las Vegas and wrapped up on July 24 in southern California. For the run, Nashville-based Worley Sound supplied the tour with its FOH and monitor control packages, both of which were built upon DiGiCo Quantum338 consoles.

Although Sultana is likely best known as a "one-person band" for their looping and layering of riffs, beats, and vocals—perfectly exemplified on the artist's 2016 social media breakthrough, "Jungle"—the current 2022 world tour finds Sultana morphing from a solo act to a full band setup for the first time.

"I started touring with Tash in 2017 and carried a DiGiCo SD11i system that I loved on many dates around the world for the solo years," says Perth-based FOH engineer Sam Perrignon. "I had it racked in a case above a 12U rack housing my Lake processor, Waves servers and RF measurement receiver, with an array of Ergotron arm mounts, and I really appreciated its efficiency and being able to maintain a very small footprint at festivals.

"However, as our channel list has now significantly grown, mixing on a larger surface is certainly an improved experience and I am really enjoying the Quantum338 with its center-screen processing section, daylight viewable screens, and bridge-light/sun-shield. The console's worksurface is great—I have speedy access to everything I need—and the DiGiCo-Waves integration is nice and fast, keeping my fingers away from the touchscreens as much as possible. Also, software-wise on the Quantum series, I'm already a big fan of Mustard processing across all of the acoustic drums, with the VCA compressor type being a particular favorite."

Excluding talk and utility inputs, Perrignon notes that there are approximately 70 inputs coming from the four members onstage where he shares a 32-bit module-loaded SD-Rack with another Quantum338 carried for monitors. "There is a mix of analog inputs from the SD-Rack and MADI inputs from playback that are piped into the monitor console and copied onto the Optocore network," he describes. "The band side is fairly conventional, but for Tash's solo section, a lot of the show is mixed on groups. As I receive direct and looped inputs, this avoids doubling up on external processing."

He adds that he also has a few choice pieces of outboard gear on his SD-MiNi Rack at FOH and uses the console's Waves port for all Waves processing, plus two DiGiGrid MGBs on a separate network for recording and Smaart I/O. "I use Waves primarily on groups, Tash's vocal and FX as well as an outboard Smart Research C2 on my LR, API2500+ on drums, Rupert Neve Designs Portico 5045 enhancer for vocal, and a Bricasti M7, but a lot of the processing is nicely handled onboard the Quantum338."

Hailing from Wollongong, just south of Sydney, monitor engineer Jordan Tanner has also been working with Sultana since 2017, when he and Perrignon established their touring and production management company, RTA Touring. "When Tash decided to add a backing band, it became apparent early on that we were in for a busy gig," Tanner says. "Given our input list, once you consider FX and utility inputs, the number of required channels blows out pretty quick. I'm using over 120 input channels, and it's imperative that I'm able to make things happen very fast and without fuss. Having worked on all SD surfaces, I feel that the Quantum338 surface is right up there among the fastest. I find the master section particularly well laid out, as far as macros, snapshots and talk sections go—and two master faders is of course a huge win!"

Tanner points out that he prefers to keep things "as onboard as is possible," he says. "I do have a Waves system out with me for a couple of specific plugins that Tash likes to hear to replicate their studio chains, but for the most part it's all onboard processing. Keeping things centralized within the console means my attention isn't divided across multiple platforms and keeps my automation reasonably straightforward. I find there are more than enough routing and processing options to get me where I want to be, especially so at stage left."

As for Quantum338-specific features, like Perrignon, Tanner enjoys the new Mustard processing, particularly its compression options. "I've found that it's so much easier to get the sound I'm looking for out of the wider range of compressor styles offered in the Mustard channel. The full processing controls for the center section of the 338 are also excellent. I feel much more fluid working across three identical banks of the console, which is big part of the reason for my love affair with DiGiCo's SD12."

Another amenity that Tanner appreciates on tour is working with the new console's MIDI functionality. "Our playback guy, the illustrious James Luscombe, has a MIDI controller at his station that can fire macros on my console to route his talkback mics to particular performers and crew. He's also sending me program changes out of Ableton to automate the firing of my snapshots. Said snapshots also output MIDI to my Bricasti M7 to recall song-specific reverb presets, which means I'm not having to constantly reach down and adjust it."

Both engineers are quick to praise Worley Sound, which furnished the consoles for the North American trek. "When Tom Worley launched his company last year and we saw the quality of the control packages he was putting together, we knew it would be a great fit as Jordan and I are massive fans of a nice rack build, having spent a lot of time building them ourselves. So big thanks to Tom for providing such an excellent package—it's been a pleasure to load in every day—and to audio tech Steve Donovan and the rest of the crew who have been on the road with us. They're excellent humans and we're very much looking forward to working with them again."

"And, of course, big props also to DiGiCo and their support," adds Tanner. "As everyone is no doubt already aware, they're the best in the game."